Febrer 2017
Exposició "Battle Earth" de Abel Carrasco & Limbo
Març 2017
Exposició Arte Basura, Francisco Pajaro
www.franciscodepajaro.com
Art is Trash's work is ephemeral: he uses rubbish bags, abandoned furniture and debris to create art that works as a mirror for those who see it, reflecting our boundless, desperate consumerism and our obsession with power. It disappears fast—sometimes as soon as it is finished. Francisco Pajaro, an artist who is surely on the cusp of transforming the street—and urban-art scenes on an international scale.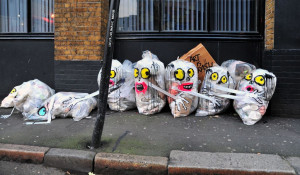 Abril 2017
Exposició Jose Corral "Surrealisme"
www.josecorralart.com
José Corral se empezó a interesar por la pintura en la niñez, en esa época y durante algunos años asiste a las clases de Miguel Ángel Gonzálvez, pintor hiperrealista, poco a poco va madurando, y sus pasos lo dirigen hacia un estilo propio y singular desde el que no deja de experimentar nuevas opciones.
En las primeras pinturas da un paseo por diferentes temas y estilos que van desde el realismo de su "ventana", hasta el surrealismo que lo mantiene "A flote en su propio mar". Mantiene una mirada infantil en "Niños jugando al escondite", que persiste en "compañeros de otra edad".
También es capaz de sorprendernos con su interpretación del paisaje, lo vemos a través sus ojos en la "La Puda" de Montserrat; de la mano de este joven pintor podemos explorar diferentes caminos alumbrados con una luz muy particular.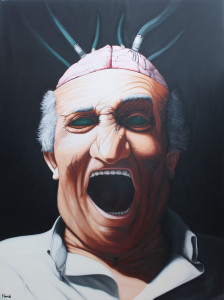 Maig
Fabian Zolar (germany)
Fabian Zolar theory of painting is based on the idea to further develop the basics of Graffiti, to use them for creating forms of expression which are just as figurative enough to lead the viewer in a certain direction, but at the same time are abstract enough to leave room for own interpretation.
The big-scale work on murals, directly influences his work on canvas and vice versa.
Topic of his work is the present we live in – like consumption, spirituality, biology and opposites of a transforming world.
Abstracting the inherent figurative form of Graffiti and combining it with other figurative or abstract elements he creates a contemporary form of painting.
Fabian Zolar¥s work could yet be seen on murals and in exhibitions in South America, Spain, Germany, Finland and Turkey. Works are part of collections in the USA, Canada and Germany.
After a university degree of fine Arts in 2015 (Masterclass) he keeps on developing his unique style.
The artist is as well known as a compositor of electronic music (Abolous) which relates to his desire to express the present time.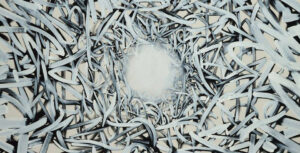 Inaugurem la Expo Graffcollective
23 Artistes presenten la seva obra sobre un bastidor de 60×60, la proposta és crear una imatge que et doni bon rotllo!
El públic pot oferir la seva proposta de canvi per l'obra que li agradi enganxant un postic al costat del quadre i si a l'artista li interessa…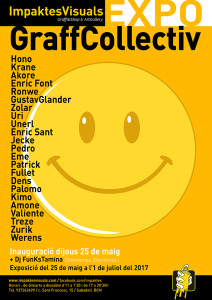 20 i 21 de octubre
"L'Art de la Ferrera", artista del hierro que trabaja reciclando todo tipo de metal recuperando este arte tan antiguo con la forja y el trabajo manual. Uno de sus temas más recurrentes son las flores, pero se atreve con productos de la casa, muebles, complementos… Para más información sobre su trabajo: L'art de la ferrera Berta Canals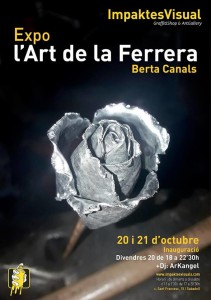 Dos dels nostres artistes locals presenten una nova col·leció de quadres amb la temàtica de llegendes del Rock…Festa assegurada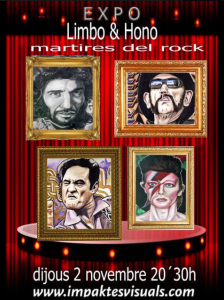 Vine aquest dijous 30 a gaudier de la nova exposició "Repetició" del nostre artista local Werens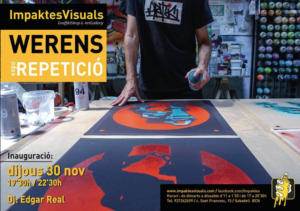 Enric Font 2309 "Estranyes persones"
Després d'una llarga trajectòria d'artista d'estudi, el 2014 es llença a produir obra en l'espai carrer. Popularitza impactants imatges de torsos humans amb curioses emanacions i explosions variades.
A Estranyes persones presenta una sèrie de collages sobre paper. Continua amb l'exploració personal al voltant de la perplexitat i l'estupor que caracteritzen els temps liquats que ens ha tocat viure.