December 2012
According Werens, painting graffiti √ © s the best way to bring art to everyone, col¬Σlaborar in society that we have had in luck, in an attempt to counter the greyness of life in cities id,Äôaportar © s m√ neglected areas of our towns and neighborhoods, making d, Äôaquest m√≥n a m√ © s nice.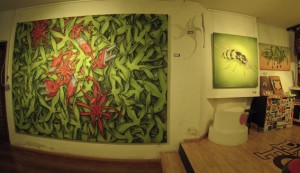 _ _ _ _ _ _ _ _
Exhibition Carlos Gambarte
Cartoonist in: The Viper, Makoki, First line …
Expo from November 29 to December 11
He will publish his work as an illustrator in magazines such as:
Makoki, TMEO, the adder, Puta mili, Frontline, Mala print Malavida …
Founder side Javi Rillo agency cartoons and animations artristicas "ELSEISYELCUATRO"; awarded for best business initiative 2008 "Barbera del Valles" Barcelona.
Member of the musical groups "The Roal the" and "The> Singin '.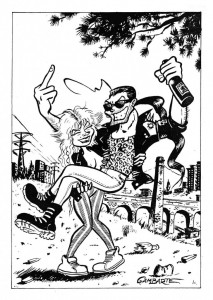 _ _ _ _ _ _ _ _
Pet Expo Pan From 8 to 27 November
Pedro Giménez (1967) is a graphic designer and illustrator. His first steps into the world of drawing came when he began studying as a draftsman construction. Hence the fascination with cities and impossible buildings, which are perhaps the result of a forthcoming or the achievement of a dream come true on paper. His drawings are surrounded by unknowns paths drawn at random with unexpected travel. As he says, "Well you know when they start but never finish." It is a work that comes from the subconscious, that part without a preconceived idea, and the result could be a coincidence or a clever inner strength and interlaced between feeling and mind back to the same author. Clearly the illustration is very personal, an imagination that lives free from influences or intentions, without fear or social needs, and develops a loving impulse to love art and freedom be who you want to be. It is an invitation to fly. Currently runs his own graphic design agency and illustration: Rango-study.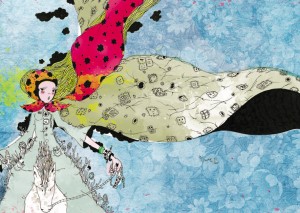 _ _ _ _ _ _ _ _
Bici Art
Aleix Rodr√ ≠ guez passi√≥ without l√ ≠ mits for bicycles
The Aleix √ © s in love with two wheels since childhood, especially per√≤ bicycle understood as a free art. The passi√≥ for bicycles made 18 years Aleix © marx√ healthy living a few years in the Netherlands, the European capital of the bicycle, to discover new cultures and to undertake new ways. † comen√ßar All√ Nathan was working on what he liked m√ © s, a craft workshop and bicycle understood that that vocaci√≥ wanted to make a lifestyle.
Among his creations are the estimated m√ © s Giraffe, the Zigzag or Swing Bike on tricycles or Mountain Bike Drift and all kinds of talents that surpass by far the traditional concept bike …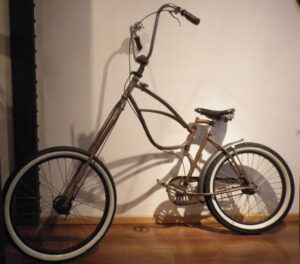 _ _ _ _ _ _ _ _
From 4 to 16 October 2012
Peter Almirón presents the exhibition ………. "i-reverendos"
(taken from the encyclopedia Catalan)
pornography
[antrop cult] Representació of any kind, in order to excite sexually, made generally with profit.
Dif√ ≠ cil to define, as obscenity, √ © s concept artificial ideol√≤gic subjective, lacking meaning psicol√≤gic; their alleged border eroticism dep√®n cultural factors, social and religious. The concept √ © s applied thus indiscriminately, all all√≤ that we consider that m√ © enll√ † s had for a respectable eroticism.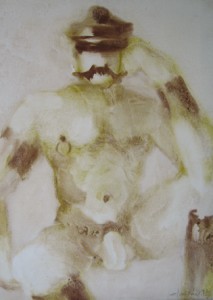 _ _ _ _ _ _ _ _
From 6 to 29 setembreEXPO NUTA – NOT ILLUSTRATED
More a collection of writings automatic poètica.Inauguració intention of the exhibition brings together a series of automatic drawings emerged from soul and made without thinking, without using eraser, sketch without prior begun and finished in a same time margin.
A piece of my man captured on cardboard. An attempt to seek the truth about the styling. One way of attacking academicism without abandoning be authentic.
Nuta.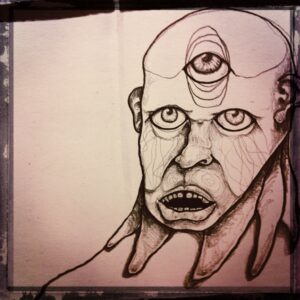 _ _ _ _ _ _ _ _
From 12 July to 29 August
MOVEMENTS AND CYCLES
SUSANA BERNAL, Teruel:
MOVEMENTS AND CYCLES
All the paintings that make up this series lodge concept of time, the path traced
my steps through space and consequently cycles that were shaping my own past:
some open and others closed.
The materials I work with are diverse: pigment, latex, oil, acrylic, spray and paper, among others. All paintings are made on canvas and all the predominant color. Vivid colors that are superimposed to form the space of my work resulting in "walls" coded by numbers, letters and other signs that associate the feelings I experience when Mudu skin.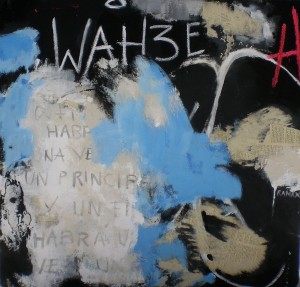 _ _ _ _ _ _ _ _
Come and join us in our 'Next Stop' in Barcelona! See how 'Circus Terminal' is changing ……
43 artists from 13 different countries and eight Spanish artists invited local …
'Circus Terminal SPAIN', led by Gustav Gland
Exhibition Opening Event: Th June 28, 2012, 19:30 -23: 00 Gallery Visual Impaktes – San Francisco 15, 08202 Sabadell, Barcelona
Performance: 'Schtoom' from 'Hee Ban Shee (Miranda & Sky Jeff Roland) at 20,30h
Exhibition: From June 28 to July 10, 2012
Gallery Hours: Tuesday to Saturday from 11:00 to 13:30 and from 17: 00-20: 30
Our Events:
Party artistic and live music: Performance Honoriskausen (Hono Osuna) and other artists, live music with Carlos Brahmachari, Dr. Marcel and Victor Gracia's Hall Plaza Laietana 48, 08203 Sabadell night Thursday 28th June (after the opening event)
Lunch artistic Meeting: Saturday 30 June at the Mekanika, Raval de Fora, 29 08202 Sabadell:
-with performances of Gustav glans and Dada (Local Artists Barcelona) Saturday June 30 after lunch Artists La Mekanika, Raval de Fora, 29 08202 Sabadell
Open interactive workshop led by Werens (Ramon Puig) Saturday June 30 after lunch Artists La Mekanika, Raval de Fora, 29 08202 Sabadell
– "Live Painting" in collaboration Miranda Sky (UK) and Jeff Roland (France) Saturday June 30 after lunch Artists La Mekanika, Raval de Fora, 29 08202 Sabadell This event will be continue on Thursday 5 July at the Gallery Impaktes visuals.
Circus Terminal WORLDWIDE Exposition / collaborative project and traveling 2012-2013
….. UNITED KINGDOM SPAIN FRANCE …. ….. ….. ….. …… MYANMAR THAILAND USA ….. ….. Netherlands. NEW ZEALAND NORWAY …… ….. ….. ….. .. … ….. ………. JAPAN SURINAME
and anywhere you want to direct this our artists Terminal Circus! Our route is being formed through online collaboration.
Circus terminal endeavor to convert various individual components worldwide in a delicious cake to celebrate the differences and similarities of all people through his art. It is an ongoing project that brings radical artists with varied backgrounds, regardless of whether they have gone to art school or not. Scheduled to leave the boundaries of everything and everybody; the show will travel collecting evidence of life. Coming to town soon, our goal is to build new relationships and expand the idea of ​​artistic self, beyond the official channels or preset. Local artists in each of our 'Stops' will take an active part in the project.
'Terminal WORLDWIDE Circus', headed by Chutima Kerdpitak (NOK)
Circus Terminal SPAIN 43 Artists from 13 different countries:
Sam Clift – London, United Kingdom / Charlie Phillips W – Manchester, UK – Japan / Maryann McCarra – Fitzpatrick – NY, USA / Louise Schmid – Glasgow, UK / Jeff Roland – Eulmont, France / McGill, Tom – New Jersey, USA / John McLaughlin – MI, USA / Noel Wong – Hong Kong / Christy Symington – London, United Kingdom / Miranda Sky – London, United Kingdom / Gareth Hughes – London, United Kingdom / Todd Lynn – Wellington, New Zealand / Pattree Chimnok – Chiang Mai, Thailand / Rinaldo Klas – Paramaribo, Suriname / Manafov Toro – Baku, Azerbaijan / Chris Czainski – Halifax, UK / Liz Parkinson – North Avoca NSW, Australia / Danni Higman – Manchester, UK / Dion Hitchings – Gallery Outsider Art – New Jersey, USA. / Padungsak Kochsomrong – Chiang Mai, Thailand / Ana Luisa Dionello – London, United Kingdom / Ciara Foster – Dublin, Ireland / Erin Lee Benson – FL, USA / Katie Hawker-Area Arts – Chiang Thailand – UK / Joshua Haycraft – BHBITB – Washington DC, USA / Pablo Czainski – Halifax, UK / Gustav Gland – Barcelona, ​​Spain / Josianne Ishikawa – Yamanashi, Japan – US / Julia Sisi – Canary Islands, Spain / Seijin Park – Seoul, Korea, UK / Chakkrit Chimnok – Chiang Mai, Thailand / Andrew Stahl – London, United Kingdom / Chutima Kerdpitak (NOK) – London, UK – Thailand / Werens (Ramon Puig) – Barcelona, ​​Spain / Nasica François – Nice, France / Charles Auchincloss, Kingsbury Edward III, Edward Woltemate Jr., David "Big Dutchman" Nally Jim Bloom – Represented by Outsider Folk Art Gallery – PA, USA. / Sheona Josiah – London, United Kingdom / Carlo Keshishian – London, United Kingdom / Ilya Scurovs – London, UK – Latvia
Invited local artists Españal: Treze (Guillem Vives) – Sabadell, Barcelona Dan Casado – La Frontera, Canary Limbo (Jesús Martín Asensio) – Sabadell, Barcelona Kimo Osuna – Maçanet de la Selva, Girona U & U (Joanjo Vendrell), Sabadell, Barcelona Jordi Estate-Ossó Zion LleidaHonoriskausen (Hono Osuna) – Sabadell, Barcelona Irina Morozova – Mariupol, Ukraine and counting ……..
Our 'next stop' is the Chateau Corbin Liverdun France and directed by Jeff Roland.
Links:http://uncookedculture.com/#/circus-terminal-spain/4565132271
http://uncookedculture.ning.com/profiles/blogs/what-s-on-at-our-next-stop-circus-terminal-spain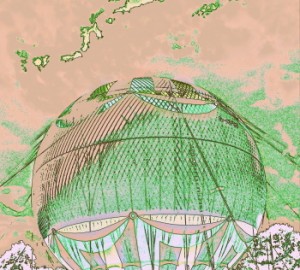 _ _ _ _ _ _ _ _
Lorak Photo Art. From May 31 to 26 April
Looking inside.
Naked and in silence. The mask falls, arguments fade only feelings are exposed. So diverse but so similar. Endless combinations that make human phenotypes and apparently make us unique in our smallness. But as much as we look at our peculiarities escarrassem is much more evident in our likeness. Multiple physical and psychological characteristics are that make us unique, but even more that we bring together. Diversity face outside, but inside face of inevitable uniqueness.
Often we need to feel unique and forget that even this is a common feeling that shows that within the limits of a person, we all suffer the same things, we feel the same way and let us invade to similar worries . The other is that we recognize that we are most concerned about, what we like or we create more repulsion, even before discovering it in ourselves. And so many times we get overwhelmed and confused. We recognize, we question, we ignore or attract, we are only souls intertwined, egos and personalities exchanged eternal evolution.
Text: Ivonne Puig
http://www.impaktesvisuals.com/Expo2012/Expo%a/ExpolorakiC.htm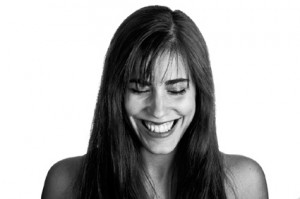 _ _ _ _ _ _ _ _
Padure Graphic Exhibition (Romania)
Thursday, 4/26 – 2012
Padure is a visual communicator Romanian explorer involved in creative exhibition of illustration, painting and street art. Drawing is a way of understanding the world and express their identity. His images often associated with dark themes are strongly influenced by classic illustration, cartoons, myths, subcultures of society and daily life iles emotions. It creates unexpected characters, a combination of real human, animals and plants and the endless possibilities mixed. Padure universe is a journey of self discovery and fantasy graphic fuatada intended to provide the consumer society we are living. One way to experience and explore the reality one step of our waking life, freely sharing culture.
Padure Daniel (1985, Arad, Romania) as a child began to show interest in drawing and painting to attend art schools, finished his studies in 2008 at the University of Arts in Timisoara, Romania. In recent years he lived in Portugal, where he developed numerous solo exhibitions. He is currently presenting his work exhibited throughout Europe and participating in movements of street art.
http://padurere.blogspot.com.es/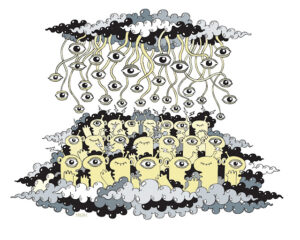 _ _ _ _ _ _ _ _
From 29 to 24 April 2012 mar√ß Few moments are as jubilant as it gives us the arrival of a new exposici√≥ Matilda. Returning landscapes, flowers, and faces the m√≥n fant√ † stic that the artist expresses Sabadell Laia Pampalona on llen√ß, staging a repertoire that introduces large format for the first time …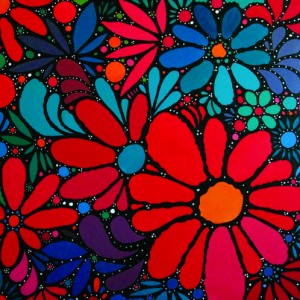 _ _ _ _ _ _ _ _
Tretze & Jahel. Doble o nada (Sabadell)
From 22 February to 27 March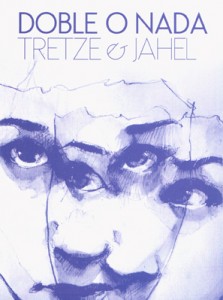 Found in many popular proverbs phrases referring to the face as an element of clarity against the dark masks. Oscar Wilde © t√ clear when it distinguishes truth and falsehood atribu√Ødes these two parts respectively. The project ÄúDoble or nada,Äù we wanted to establish a di√ † leg between written language and pl√ † stic to q√ºestionar the p√∫blic on such subjective delimitaci√≥ between ambd√≥sl√ ≠ mits both paral¬Σlels as perpendicular of which we doubt ourselves id,Äôon part in this project four hands pret√ © n discuss the p√∫blic.
_ _ _ _ _ _ _ _
INAUGURACIÓ – EXPO "EDICIÓ LIMITADA"
Thursday 19 January wings 19: 30h in Visual Impaktes.
artists:Aurea Muñoz, Celia Bragança, Constanza Jarpa i Jesús Ruiz Bago.
+ EL.TA